Workflow for web-based comprehensive assessment, risk, and education program: Family history and personal history of cancer is obtained online prior to appointment and analyzed to determine if NCCN guidelines are met; followed by pre-test education and co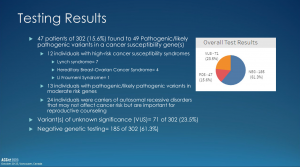 Overall Test Results: Implementation of a Digital Cancer Risk Assessment Tool and Genetic Testing Program in Gastroenterology Practices Throughout the US Identifies Inherited Cancer Susceptibility Syndromes in 15.6% of Patients Tested
Cancer Risk Assessment Tool /Genetic Testing Program Identifies Inherited Cancer Susceptibility Syndromes in 15.6% of Patients Tested in US GI Practices
There is an unfulfilled need for the identification of hereditary genetic cancer predispositions, estimated to affect 2-4% of the population."
— Daniel J. Pambianco, MD, FACG, GastroHealth of Charlottesville, VA
VANCOUVER, BRITISH COLUMBIA, CANADA, October 22, 2023 /EINPresswire.com/ — Implementation of a digital cancer risk assessment tool and genetic testing program in gastroenterology practices throughout the US identified inherited cancer susceptibility syndromes in 15.6% of patients tested, according to findings that will be presented at the American College of Gastroenterology's 2023 Annual Scientific Meeting, in Vancouver, British Columbia. Daniel J. Pambianco, MD, FACG, GastroHealth of Charlottesville, VA, will present the findings on Tuesday, October 24, 2023, at 2:35 PM – 2:45 PM PT in Ballroom B at the Vancouver Convention Centre. The presentation will also be livestreamed.
A web-based cancer risk assessment tool and genetic testing program has been available to ACG members since 2021 as means to streamline family history risk assessment, genetic education, genetic testing, and post-test genetic counseling by telehealth. This tool is designed to systematically assess all patients in a practice regardless of age or GI condition.
Seven practices consisting of 17 GI providers have implemented this service between Sept 2021-May 2023. Depending on the practice all patients or patients considered high-risk were invited via text or email to complete a risk assessment via the web-based program.
Out of 25,349 patient appointments, 9,340 (36.8%) assessment invitations have been sent and 5,830 (62.4%) completed. 1,470 of 5,830 (25.2%) met National Comprehensive Cancer Network (NCCN) criteria for genetic counseling and testing, 403 had genetic testing ordered (27.4%) and 302 (74.9%) completed testing. Of those tested, 47 (15.6%) were found to have 49 pathogenic/likely pathogenic variants (P/LPV) in a cancer susceptibility gene, 71 (23.5%) were found to have variants of uncertain significance, and 185 (61.3%) tested negative (Table 1). 12 individuals were diagnosed with high-risk cancer susceptibility syndromes: 7 with Lynch syndrome, 4 with Hereditary Breast-Ovarian cancer syndrome, and 1 with Li Fraumeni syndrome. There were 13 individuals with P/LPVs in moderate-risk genes (APC p.I1307K, ATM, CHEK2, HOXB13, and SDHA). 24 individuals were carriers of autosomal recessive disorders not affecting their cancer risk but important for reproductive risk counseling regardless of age or GI condition.
"There is an unfulfilled need for the identification of hereditary genetic cancer predispositions, estimated to affect 2-4% of the population," said Dr. Pambianco. "Systematic implementation of a digital risk assessment tool can identify patients with high-risk cancer susceptibility syndromes."
"Here we used such a tool to screen nearly 6,000 patients leading to testing of 302 and the identification of 47 individuals with management and/or reproductive implications. Most of these individuals may not have been diagnosed otherwise. Syndrome identification allows implementation of intensive surveillance, including earlier colonoscopy depending on pathogenic variant, to prevent or diagnose cancer earlier. Cascade testing can be offered to relatives," according to the study authors.
"This process was executed seamlessly through an electronic system, both for the healthcare provider and the patient. The outcomes were remarkable, as these discoveries might not have otherwise been detected," said Dr. Pambianco. "Patients should possess awareness and knowledge regarding hereditary genetic cancer predispositions, as well as the significance of undergoing suitable genetic screening and counseling for themselves and their families. Numerous cancers and conditions of this nature can either be prevented or identified in their early stages."
In 2021, GI OnDEMAND®, gastroenterology's leading multidisciplinary virtual care platform, partnered with Ambry Genetics®, a leading clinical genetic testing company, to integrate online genetic counseling and testing services into gastroenterology practices nationwide. This partnership addressed a critical clinical need for identifying hereditary GI cancer syndromes to help guide potentially life-altering health care decisions. GI OnDEMAND offers the Ambry CARE Program. Developed by Ambry Genetics, CARE (Comprehensive, Assessment, Risk, and Education) automates the genetic screening process, provides education on genetic testing to patients, and links test ordering and results delivery together in one online platform.
Visit GI OnDEMAND and Ambry Genetics at ACG 2023 Visit Booth #1331 October 22-24, 2023 during ACG's Annual Scientific Meeting at the Vancouver Convention Centre, Vancouver, Canada
ABOUT GI OnDEMAND®

GI OnDEMAND is a joint venture between the American College of Gastroenterology (ACG) and Gastro Girl, Inc. As gastroenterology's multidisciplinary virtual care platform, GI OnDEMAND brings the full ecosystem of GI experts, resources, and support together for GI clinicians and patients. GI OnDEMAND makes it easier for GI practices to adopt a virtual integrated care model and amplify the expertise and value the practice brings to patients with access to vetted GI expert registered dietitians, GI psychologists, genetic testing and expert genetic counseling, and evidence-based educational programs and resources. Learn more giondemand.com
ABOUT AMBRY GENETICS®

Ambry Genetics, a subsidiary of REALM IDx, Inc., translates scientific research into clinically actionable test results based upon a deep understanding of the human genome and the biology behind genetic diseases. It is a leader in genetic testing that aims to improve health by understanding the relationship between genetics and diseases. Due to its unparalleled track record of discoveries over 20 years, as well as to its growing database that continues to expand in collaboration with academic, corporate and pharmaceutical partners, Ambry Genetics is first to market with innovative products and comprehensive analysis that enable clinicians to confidently inform patient health decisions.

For more information, please visit ambrygen.com.

###
Jacqueline Gaulin
GI OnDEMAND
+1 202-579-1057
[email protected]
Visit us on social media:
Twitter
Instagram
Facebook


Originally published at https://www.einpresswire.com/article/663456241/cancer-risk-genetic-testing-program-ids-inherited-cancer-susceptibility-syndromes-in-15-6-of-patients-tested