Dr. Dale Caldwell and his daughter Ashley on his inauguration as 15th president of Centenary University.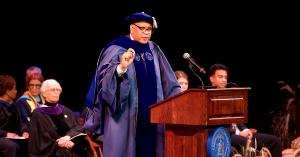 Dr. Dale Caldwell announces Campaign for College at Centenary University
Dr. Dale Caldwell, 15th president of Centenary University inauguration, Oct 21, 2023
Two-year Campaign for College will raise $8 million to emphasize value of a college education while providing scholarships for financially challenged students
HACKETTSTOWN, NEW JERSEY, UNITED STATES, October 21, 2023 /EINPresswire.com/ — Centenary University President Dale Caldwell, Ed.D., today announced the Campaign for College, a two-year, $8 million capital campaign to shift the national dialogue on college value and raise significant funding for scholarships, with an emphasis on first-generation students and those forced to leave college due to fiscal challenges. The announcement was the centerpiece of Dr. Caldwell's inaugural address during a ceremony formally installing him as the University's 15th president.
Attended by dignitaries from across the state, nation, and internationally, the inauguration marked a historic moment for Centenary and Dr. Caldwell: He is the University's first African American president and grew up in a family dedicated to racial and economic justice. His father, a Methodist minister, marched with and personally knew Rev. Martin Luther King, Jr. Dr. Caldwell followed his father into the ministry, serving as pastor of Covenant United Methodist Church in New Brunswick, NJ. Today, Dr. Caldwell is one of the most influential voices in New Jersey higher education.
In his inaugural address, Dr. Caldwell highlighted the disconnect between public perceptions of higher education and the financial benefits of earning a college degree. Studies show that college graduates have 57 percent more employment opportunities than college graduates, have received 72.4 percent of all jobs offered since 2010, and an average salary of $84,000, compared to $49,000 for those without a degree, he said. Yet, public confidence in the value of a college degree has fallen to historically low levels. "One of the challenges that universities are facing is a very public campaign against college," Dr. Caldwell said. "There are people, even celebrities, who are trying to convince students that college tuition is not worth it. However, these statistics make it clear that a college education is significantly more valuable than a high school education."
At the same time, Dr. Caldwell noted that many students begin college, only to drop out because they don't have the money to complete their degree. Sometimes, they're only a few thousand dollars short. Dr. Caldwell added, "Unfortunately, their families are struggling and cannot make those payments, which to many are seemingly small. Can you imagine being that close to graduating and not being able to because of money?"
These twin realities—declining confidence in the value of higher education and student financial need—inform the foundation of the Campaign for College. The first-of-its-kind initiative has three goals: Making the case for college to counter the growing anti-college movement; ensuring that every student, regardless of family income or financial circumstances, has sufficient money to earn a Centenary University degree; and building Centenary's brand as one of the most innovative and student-centered universities in the world.
During the silent phase of the campaign, Centenary raised more than $2.1 million toward the $8 million goal. This includes a $17,000 gift from Dr. Caldwell to demonstrate how important he thinks the campaign is to Centenary and higher education as a whole. The money raised also includes funding for The Grace Y. Bissett and Louise Monez Hill Scholarship, a full four-year award for students who are dedicated to pursuing a career that improves race relations. To mark the start of Dr. Caldwell's presidency in July, an anonymous donor also contributed $100,000 to provide need-based scholarships, with an emphasis on first-generation college students.
"Centenary, more than any other university I know, has transformed lives in a way that many think is not possible," Dr. Caldwell said. "We have amazing stories of students from poor families, students with special needs, and students with emotional challenges who come to us broken. However, the unique academic and emotional support we provide transforms these students from broken lives to productive citizens. Yet, this campaign is not just about me or Centenary University. It is about us supporting brilliant students, first-generation students, and other young people who thought that college was not an option."
Dr. Caldwell's daughter, Ashley Marie Caldwell, delivered the keynote address at the inauguration. She said of her father, "My Dad feels that he has been blessed with amazing parents, a wonderful brother, a daughter that is not too bad, a top-notch education, and tremendous work experience. He feels called to use these privileges to speak out for the voiceless and the rights of people who are struggling in life… I have never seen him as happy as he has been being President of Centenary University."
Student speakers included Jenna Glinko, a 2023 Centenary University graduate who is currently pursuing a Master of Business Administration with a concentration in finance at the University, and Mathias O'Neill, who is completing a Bachelor of Arts in Psychology with a minor in business management. Norman Worth, former chair of the Centenary University Board of Trustees and president/general manager of WRNJ Radio, Inc., served as master of ceremonies.
To mark Dr. Caldwell's inauguration day, the Centenary University community participated in service initiatives prior to the ceremony at local nonprofits, including Hackettstown Clean, Trinity Church, First Presbyterian Church, Habitat for Humanity ReStore, and the Centenary University food pantry.
Dr. Caldwell brings a wealth of experience to his role at Centenary. Most recently, he chaired the Diversity, Equity, and Inclusion Advisory Council at Fairleigh Dickinson University, where he was also executive director of the Rothman Institute of Innovation and Entrepreneurship. He has also served as deputy commissioner of the New Jersey Department of Community Affairs and is a longtime member and former president of the New Brunswick, NJ, Board of Education. Dr. Caldwell graduated from Princeton University and earned an MBA from The Wharton School of the University of Pennsylvania and a doctorate from Seton Hall University.
Rose Duger
Erbach Communications Group
+1 551-580-3908
[email protected]
Visit us on social media:
Facebook
Twitter
LinkedIn
Instagram
YouTube
TikTok


Originally published at https://www.einpresswire.com/article/663385377/newly-inaugurated-centenary-u-president-dale-caldwell-capital-campaign-for-scholarships-and-dialogue-on-college-value